GAF Timberline HD Shingles
Founded in 1886, GAF Materials Corp. has grown to be one of the largest distributors of building products in North America, as well as the largest commercial and residential roofing manufacturer.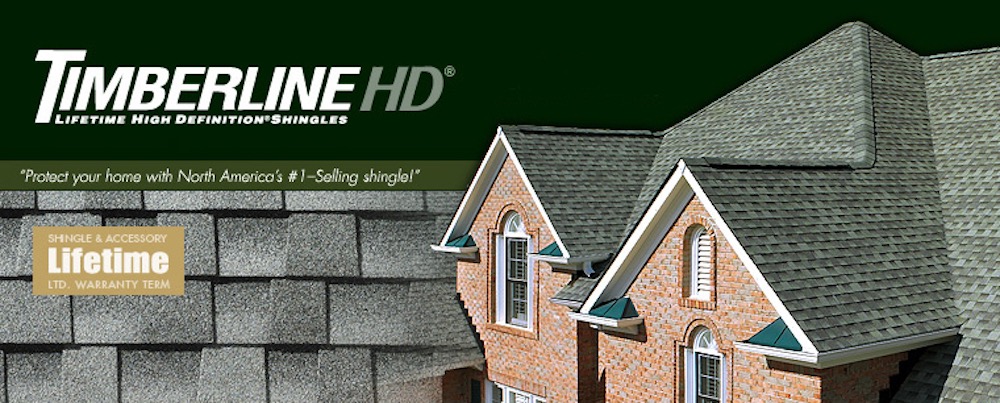 GAF Timberline HD shingles are designed with an optimized construction and an advanced color-application technique that results in an extra-dimensional look for the home. The architectural shingle line is the industry's first true tile-look asphalt shingles that replicate the beauty of wooden shingles. Unlike traditional tile, GAF shingles are budget friendly and easier to install, making the dream of having a beautiful tile-look roof within reach for any homeowner.
The GAF Timberline HD shingles feature architectural design dimensions and blended shadow bands, offering a look similar to the classic wood shake. 'HD' communicates that advantage perfectly, as each shadow band is applied using a sophisticated, computer-controlled "feathering" technique. When combined with the randomly-blended top layer, it results in a shingle with exceptional depth and dimension and a striking look that stands unmatched by any other brand.
All of GAF Timberline shingles incorporate the company's proprietary "Advanced Protection Technology", which results in shingles that offer improved performance – including superior durability and wind resistance.
Tony William Roofing and Exteriors is proud to offer first-class GAF Material Corporation Timberline shingles. Contact us today to schedule an appointment for your roof installation project. (403) 454-1366