How Ice Dams Can Damage Your Roof
---
What are Ice Dams?
Ice dams are build-ups of ice near the edges of your roof that form when snow melts from the heat inside your home and refreezes. The melting and then freezing of snow, usually near your eavestroughs or gutters, forms an ice damn that prevents further melting snow from draining off the roof. This water can get under shingles and expand as it freezes, pushing up your roofing materials and causing roof leaks and other damage.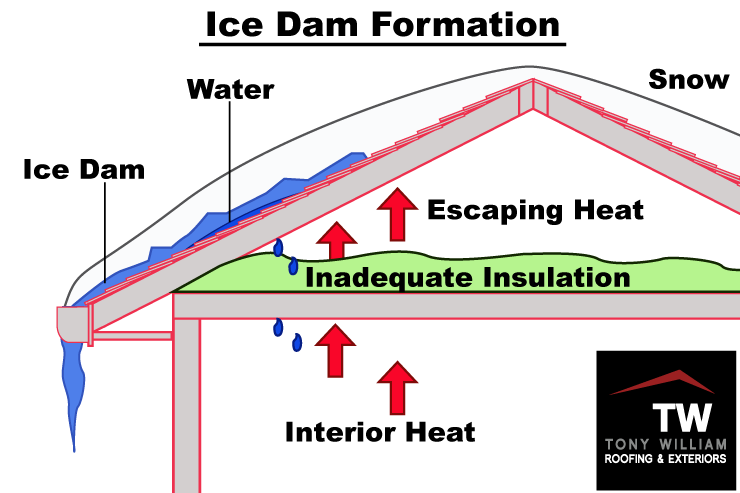 What Causes Ice Dams?
Ice dams form when a snow on your roof melts from the internal heat of your home and then refreezes when it reaches the cold air, usually at the end of your roof near the eavestroughs. The top layer of snow acts as an insulating barrier that traps heat from your home and melts some of the snow closest to your roof.
Ice Dam Prevention
In Calgary, we can't do anything to stop large accumulations of snow from building up on our roofs short of clearing the roof after heavy snowfalls. For safety, reasons we don't recommend climbing on your roof in any weather conditions. It is especially hazardous when it is covered with snow and ice.
A roof rake can be used to remove some of the snow from ground level, and it may help prevent ice dams from forming. However, ice dams will form where water reaches cold air. Raking only part of your roof, can just cause ice dams to form higher up on the roof. The entire roof needs to be cleared to effectively prevent ice dams. Complete clearing of your roof is not always practical or safe.
While snow on your roof is a key factor in the formation of ice dams, the real problems are generally inadequate attic insulation and poor attic ventilation. A well insulated attic will minimize the heat escaping from inside your home and make ice dams much less likely to occur.
Proper attic ventilation will also allow any heat in the attic to freely escape. A good roof includes quality soffit and fascia, eavestroughs, penetration barriers and adequate ventilation. Icicles hanging from your eavestroughs or walls of your home are often a sign of ice dams forming.
Metal Roofing is the ultimate precaution against ice dams. The extra insulation qualities, weather resistance and reduced snow accumulation of metal roofing all aid in preventing water leakage in your home. Nothing is more durable, weather resistant and long lasting than a properly installed metal roof.